Fire and Water Damage Restoration Services
Are you ready to get started?
Our Guarantee
We provide a 5-Year Guarantee for all of HiCaliber's restoration services. We're so confident that you'll love our customer service and the quality of our work that we guarantee it. We've worked hard for more than three decades to develop our name and reputation, and are committed to maintaining our standard of success!
Call Today 435-674-9338 / 800-492-6333
You can easily schedule an appointment with us by phone or directly on the website. Fill out the online form or visit the Contact Us page. Your call is important to us and we always have representatives standing by to assist you. If you're looking for the best in the business, you've certainly come to the right place! Call us today!
Fire & Water Restoration Explained
---
Fires take away life, safety, and a feeling of security within moments. Recovering and repairing the damage they leave behind can be an insurmountable task. For the structural damage that can be addressed quickly, call HiCaliber. Our certified, trained professionals will be at your home within minutes of the initial phone call; we're available 24 hours a day, 365 days per year. When disaster strikes, it's important to work with people you can trust.
We've serviced more than 40,000 commercial and residential projects due to disasters since we started the business in 1976. We offer fire damage restoration and other restoration services throughout southern Utah and southern Nevada. Our team receives great satisfaction in helping rebuild people's lives as well as their properties. We are known for being hardworking, honest, and for doing excellent work.
Learn More About Fire Damage Restoration.
---
The flames are out but the smell and destruction remain. Smoke has blanketed the area with soot and ash, and odor has permeated the structure. Your keepsakes, furniture, and other belongings have all been affected. In addition to the fire and smoke damage, your belongs could possibly encounter further damage from the chemicals and water used to control and extinguish the flames. Depending on the severity of the fire, the restoration-time for your property and belongings varies significantly. Thankfully, the experienced professionals at HiCaliber are just a call away.
HiCaliber has developed a strong reputation in the restoration business for being entirely customer driven! We are not a chain or a national franchise, we are a locally owned business. We have serviced more than 40,000 customers on restoration jobs alone, and those numbers are still rising. We work 24/7, 365 days a year. Our business phones are always on and will be answered regardless of the time of day. We understand the emotional sensitivity of your situation and we're here to help take some of the stress and burden off of your shoulders. You're in good hands!
Learn More About Smoke Damage and Restoration.
---
If you've just experienced a water leak in your home or office you could be facing anything from minor to serious water damage! Either way, HiCaliber's highly-trained and licensed team is available and willing to mitigate your water damage. Call us anytime; 24 hours a day 7 days a week, to claim our 5-Year Restoration Guarantee on all services performed by our experienced professionals. We service areas throughout southern Utah and southern Nevada.
Did you know there are three categories of water that could be damaging your structure if you've just encountered a flood?
Learn More About Water Damage.
---
Mold is a growing problem despite the dry climates of southern Utah and Nevada. When combined with disastrous floods or leaks, mold damage can be compounded very rapidly and even pose risk to those in its proximity if not given immediate attention. It grows in inconspicuous locations, where moisture is present: underneath floors, in between walls and in other moisture-laden places not checked frequently. Mold reproduces by means of tiny spores which are invisible to the naked eye and travel along air currents both indoors and outdoors.
Mold requires nutrients, water, oxygen and favorable temperatures to grow. Nutrients for mold are present in dead organic material such as wood, paper or fabrics; mold can also derive nutrients from some synthetic products such as paints and adhesives. Some molds produce powerful chemicals called mycotoxins that can produce illness in animals and people. Allergic responses may include hay fever-type symptoms such as sneezing, irritation to the eyes, throat, runny nose, red eyes and skin rashes. Research on mold and its health effects is ongoing. For more detailed information consult a health professional.
Learn More About Mold Damage.
---
Odor removal can be life-changing for those who have been subject to extremely foul odors for a lengthy period of time. Bad-smelling areas can negatively affect home and car sales, social gatherings and/or personal contentment. A few of the many sources of unpleasant aromas include: water damage, mold damage, sewer damage, fire damage and many more.
HiCaliber is dedicated to eliminating all traces of odor from the affected area or material. However, this isn't always an easy task. Even with thorough cleaning, odor molecules can hide inside porous materials like wood, drywall, carpeting, etc. Thankfully, the HiCaliber specialists employ professional cleaning techniques and are equipped with Ozone and Thermal Fog machines to ensure professional quality cleaning and odor improvement. These machines, coupled with interior premium detail, are highly effective at transforming air quality.
Learn More About Odor Removal.
---
Sewage damage can pose many risks to those in near proximity. Foul odors, bacteria, viruses and physical destruction to property are all concerns to address when responding to these types of calls. Solving the problem-causing issue and cleaning up the remaining mess must be done promptly once the sewage issue occurs. Not only does a professional plumber need to be employed to fix any busted pipes or valves, but experienced cleanup crews with the correct procedures and chemicals to restore the area to pre-accident condition need to be hired as well.
HiCaliber is your two-in-one solution to any sewage-damage problem!
Learn More About Sewage Damage.
---
Crime scenes are often highly-sensitive situations because threat to/ loss of human-life is regularly a contributing factor to necessary cleanup services. Often-times specialists are needed to perform restoration services following an incident, to restore conditions to pre-accident or pre-loss appearance and cleanliness.
HiCaliber is the only company to call for restoration services on crime scenes. We are very sensitive with each service call and guarantee customers our complete confidentiality. We are recommended by the local police, hospitals, and clients who have previously used our services. When you need the service of high quality, experienced, professionals to restore your home or office to its original or improved condition, call HiCaliber.
Learn More About Crime-Scene Cleanup.
---
Our professionally trained technicians are certified in bio-recovery and are equipped to handle jobs including:
Animal Waste and Carcass Cleanup (Birds, Bats, Rodents, Skunks, etc.)
Contagious Disease Decontamination
Crime/Death/Suicide Scene Decontamination
Drug/Meth Lab Cleanup
Human Waste Decontamination
Industrial and Commercial Accident Decontamination
Law Enforcement Decontamination (Holding Cells, Police Vehicles, Interrogation Rooms, etc.)
Vehicle Cleanup
Learn More About Bio-Hazard Cleanup.
Insurance Companies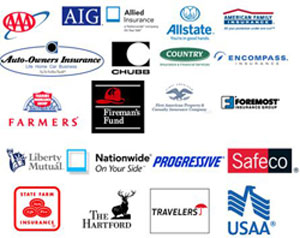 The Insurance industry has changed over the years, often-times complicating the repair-process for small businesses and customers alike. HiCaliber is dedicated to informing people of their many options for making renovations on the insurance company's budget. We have been doing all phases of restoration work since 1976 with all the major insurance providers in our service area.
During this process, it is important to clearly understand your options and freedoms while dealing with insurance companies. You have every right to hire the company of your choice for restoration work and are not forced to accept work from businesses chosen from insurance company vendor lists. Feel free to personally request our services as opposed to being assigned someone you may not be pleased with.
We work with an itemized estimating software called Xactimate, which is accepted industry-wide. All the pricing used has been developed in conjunction with major insurance companies across the country. This estimating software allows us to accurately price every job, specific to that property, with fully-detailed reporting. This includes a complete sketch of the loss, photos, psychrometric charts, moisture readings, and infrared image technology. If necessary, we'll work off of your insurance company or adjuster's line-itemized estimate.
If you have water or fire damage at your home or office, call an honest, hardworking, dedicated, licensed and professional company.
When you're looking for the best, put HiCaliber to the test!
---