Fire Damage
Fires take away life, safety, and a feeling of security within moments. Recovering and repairing the damage they leave behind can be an insurmountable task. For the structural damage that can be addressed quickly, call HiCaliber. Our certified, trained professionals will be at your home within minutes of the initial phone call: we're available 24 hours a day, 365 days per year. When disaster strikes, it's nice to work with people you can trust.
We've serviced more than 40,000 commercial and residential projects due to disasters since we started business in 1976. We offer fire damage restoration and other restoration services throughout southern Utah and southern Nevada. Our team receives great satisfaction in helping rebuild people's lives as well as their properties. We are known for being hardworking, honest, and for doing excellent work.
Did you know that if a claim is filed with your insurance company you can request specific businesses to work with? You have a choice, and we hope you'll choose HiCaliber to handle your repair work.
5-Year Restoration Guarantee
HiCaliber proudly guarantees the work we perform, with a 5-Year Restoration Guarantee. We're so confident in our experience, our team, our work, and our customer service, that we guarantee it! We have been in the restoration and construction business since 1976 and have gradually evolved with the changes of the restoration industry. Our skilled employees are always furthering their education, to stay on the cutting-edge of new technology available in today's ever-changing market. Restoration isn't just a job, it's a profession. We work for you. It's our goal to make sure you recognize your value to us as a business and as neighbors.
When you're looking for the best, put HiCaliber to the test!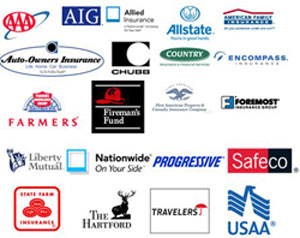 Insurance Companies
HiCaliber works with all insurance companies. We create our job estimates with the same itemized estimating software that insurance companies use called Xactimate, which is approved nationwide. All the pricing used has been developed in conjunction with major insurance companies across the country. This estimating software allows us to accurately price every job individually with fully detailed reporting, which includes a complete sketch of the loss, photos, psychrometric charts, moisture readings and infrared image technology. We can provide your insurance company with this necessary documentation for your claim to help the process go quicker. If necessary, we're also willing to work off of an agreed estimate that your insurance company puts together.
We want to make sure you are completely taken care of from start to finish. We also understand the emotional sensitivity that occurs when encounter a loss, so let the professionals at HiCaliber do the work and relieve some of your stress.