Smoke Damage
The flames are out but the smell and destruction remain. Smoke has blanketed the area with soot and ash, and odor has permeated the structure. Your keepsakes, furniture and other belongings have all been affected. In addition to the fire and smoke damage, your belongs could possibly encounter further damage from the chemicals and water used to control and extinguish the flames. Depending on the severity of the fire, the restoration-time for your property and belongings varies significantly. Thankfully, the experienced professionals at HiCaliber are just a call away.
HiCaliber has developed a strong reputation in the restoration business for being entirely customer driven! We're not a chain or national franchise; we're local and working among our neighbors. Without our exceptional clientele and reputation we couldn't have stayed in business for so long. We have serviced more than 40,000 customers on restoration jobs alone, and those numbers are still rising. We work 24/7, 365 days a year. Our business phones are always on and will be answered regardless of the time of day. We understand the emotional sensitivity of your situation and we're here to help take some of the stress and burden off of your shoulders. You're in good hands!
Two Types
There are two types of smoke damage: driven and free-floating, both of which are very destructive. Driven smoke is pressurized and has force behind it. This type of smoke is often the cause of smoke-residue found on vertical surfaces such as walls. Free-floating smoke is the product of driven smoke that has lost its energy. Because this smoke is heavier than air, it typically settles onto the horizontal surfaces in the affected structure.
HiCaliber addresses the issues caused by both types of smoke damage, in addition to many other fire-related services, such as air-duct cleaning, board-ups, content cleaning, drapery cleaning, electronic restoration, emergency water extraction, furniture restoration, odor removal, pack outs and storage, professional garment cleaning, and truck-mounted cleaning services for carpets, tile and hardwood.
We are fully staffed and equipped to handle the complete restoration process from start to finish. HiCaliber's skilled professionals have many years of experience with restoration work, and provide above industry-standard customer service. Rest assured knowing that HiCaliber cares. We are committed to excellence on every job we perform, and your satisfaction is guaranteed!
Give us the chance to prove our excellent skills and customer service guarantee when you're in need of restoration work. We can't wait to earn and KEEP your business!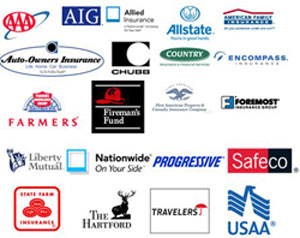 Insurance Companies
Over the past 30 years in business, HiCaliber has developed great working relationships with many of the area's insurance companies and its adjusters. When assessing your options for repair, it is important to understand that you have options when selecting businesses to work with in repairing your structure. If a claim is filed you have the right to choose who you want to work with. We hope you'll consider requesting HiCaliber to ensure a successful outcome of your project.
We use the same itemized estimating software program as the insurance companies use. This program is accepted industry-wide and was developed in conjunction with major insurance-companies across the country to create standard pricing bids for all companies that use this program. HiCaliber can accurately and uniquely price every job. It includes fully detailed reporting, a complete sketch of the loss, photos, psychrometric charts, moisture readings and infrared image technology. Regardless of who provides the paperwork (the HiCaliber team or your insurance company) all parties involved will agree upon a scope of work for your claim and ensure that you are treated fairly and properly throughout the entire process.