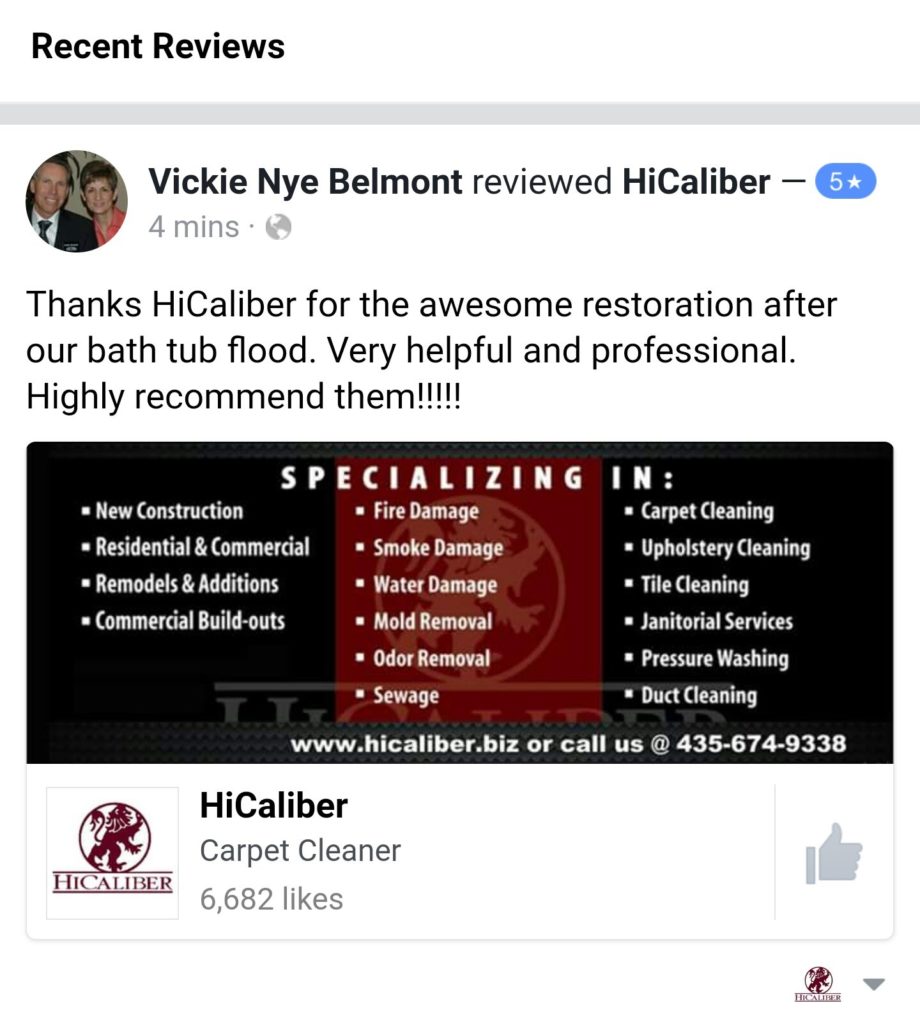 It means a lot to us to see positive feedback in regards to our efforts. We take pride in customer service and going above and beyond. Just like any business, it is nice to see/hear good reviews. Thank you to all those who have taken the time to rate our services. WE STRIVE FOR 5's.

Being locally owned and operated can be a tough when competing with the larger cooperation's. We know who has kept us in business, and that's you! Thank you for your loyalty.
"Being relatively new to the area, it's always a challenge to find reputable service companies. I chose HiCaliber from their yellow pages ad and am very pleased with them. The office was very friendly when I called in and we're able to get me scheduled in my limited time frame. Kyle came with one other worker and did a fantastic job on my bedroom carpet. They were very friendly and knowledgeable in the art of carpet cleaning. I'll definitely use them again for the rest of my cleaning needs." -Linda Basney
"These guys are incredible! Kyle and Chris did an amazing job here and were very kind and ethical people. Not only did they perform an air duct cleaning but they also noticed I had a clogged up dryer vent so they cleaned that out for us at no cost 🙂 Also I want mention when Kyle was cleaning the vent louvers he accidentally turned on our dishwasher (which we never use) because we hand wash our dishes. But what happened after that was pretty funny. When turning on the dishwasher we noticed it was leaking water and Kyle found the hose clamp to be bad and also replaced that for me which was awesome! Their work is very thorough and they leave the place spotless. They clean up after themselves and leave you feeling great. I'm giving these guys a five-star because they deserve it. I would highly recommend using Hi Caliber for your services. Great job guys!" – Red Ranger
"The cleaning was, extremely fast, efficient, effective, and affordable! The team was very knowledgeable and worked very hard to manage an accurate expectation for my flooring. Beyond the professional cleaning, the team gave great tips for upkeep and ways to maintain the flooring between cleanings." -Mark Walton
These are just a few of MANY reviews we have received recently. When you are looking for affordable, detailed, and professional services, call HiCaliber at 435-674-9338.