HOW TO LEAVE A REVIEW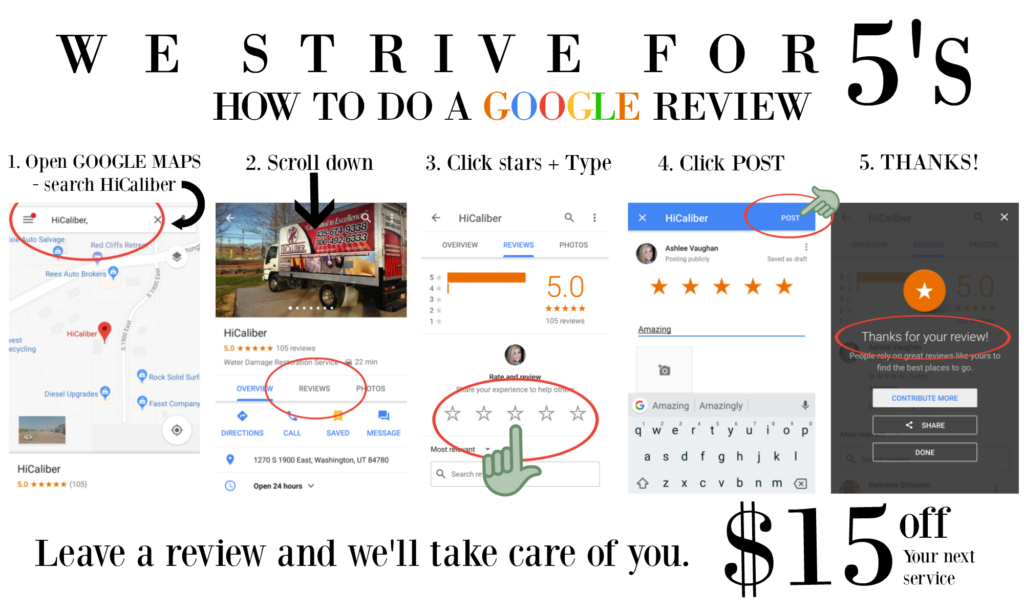 Have you ever wondered why you get told about ONLINE SURVEYS or call in surveys to rate certain places of business on their customer service and such?  This is why…  When you leave your feedback, BIG COOPERATION'S use that information to make necessary changes.  Whether it be proper employee training or marketing and promotions.
This day and age, people find businesses via the web or social media.  When searching for a company, most consumers will look at the reviews on that said business to make sure they are making a smart investment.  We encourage our customers to leave reviews, because we honestly want the feedback.   We want to know where we are excelling and where we can make improvement.  This is how a company excels, by adapting!

We strive for 5's, and trust us when we say, we read those reviews.  Whether you write them on GOOGLE, Facebook, Yelp, Angie's list, etc.  We currently have over 100 reviews on google, over 70 on Facebook, and it's growing.  And we READ EVERY SINGLE ONE!
Below is an example of what you can expect when using HiCaliber for home restoration.
One of the best review's we have ever read:
"HiCaliber is the best at everything they do. When we had a fire in our home Steve actually arrived at our home before we did as we were returning to St. George on the day of the fire. He was meeting with the Fire Department and already taking necessary picture's and information. I felt like i was leaving the work to a best friend they I could trust no matter what was needed. The work was fantastic and completed in a timely manner. HiCaliber also helped with making sure the insurance companies had everything they needed. They went above and beyond what I would have ever expected. Our Fire was earlier this year and I know that we will remain friends for a long time. The entire staff at HiCaliber is a 10 in every way possible. I would recommend them for any of the services they offer."
-Roger Withers
THANK YOU ROGER!

We really do try to treat everyone as if they were a friend.  We want you to feel comfortable.  We will get the job done as quickly as possible.  We want you back in your home/property so you can relax.  We take the initiative of communicating with your insurance so you don't have to explain anything to them.  Did you know, you HAVE A CHOICE on who does restoration work on your home?  You do now!  Let your insurance company know you want the best, and you want HiCaliber to come to the rescue.