Best Property Inspection In Southern Utah
Are you looking for the most thorough home inspection?
The search is over!  HiCaliber is the best, and ready for the test!!!
Why Are Home Inspections Important?
A home inspection is an examination of the condition of a home.  A home is one of the most important purchases one will ever make.  A home inspection is the only way to make sure your investment is a good one.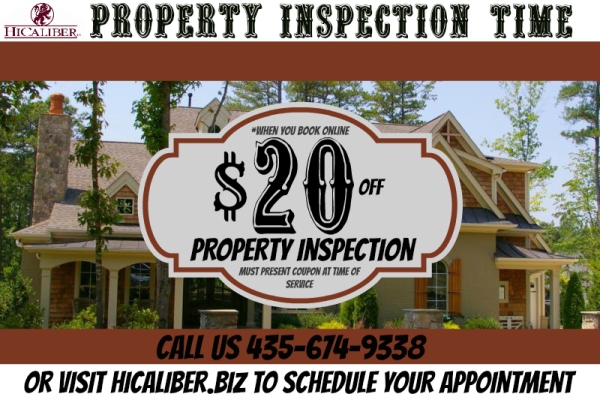 ***Use the coupon above for savings on your next property inspection.***
Specializing In
| | |
| --- | --- |
| • | Lead – Mold – Radon – Termite |
| • | Structural Settling Testing Available |
| • | Residential & Commercial Inspections |
| • | Consultation Service Available |
| • | Computer Inspection Reports |
| • | Pre-Construction Progress Reports |
| • | Complimentary Estimates & Repairs Included If Necessary |

Home Inspection Pricing Breakdown
Square Feet
Cost
Included In Each Inspection
Up to 1500
Call for quote

Structure – Includes foundation, framing and the impact of weather, time and gravity.
Roofing – Evaluates age, flashing, gutter, downspouts, skylights, chimneys, roof penetrations, and ventilation.
Exterior – Examine doors, windows, siding, trim, porches/decks, driveways, walkways, and grading around the house.
Interior – Analyze ceilings, walls, floors, doors, windows, steps, stairways, counter tops, cabinets and garage doors.
Electrical – Inspect receptacles, fixtures, ceiling fans, switches, service panels, breakers, smoke, and carbon alarms.
Plumbing – Review piping, water supply piping, waste and vent piping, fixtures, toilets, sinks, showers, hose bibs, and water softeners.
Heating and Cooling Systems – Inspect air conditioning, heat pump/furnace equipment air handler, condenser, evaporation coils, condensation drain supply, return ducting, ventilation, insulation, and fireplaces.
Appliances – If in the home at the time of inspection.
Swimming Pool/Hot Tub – Inspect pool interior finish, decking, visible piping, electrical, pump, and filter screen enclosures.
If repairs or remodeling are necessary, HiCaliber is happy to provide a complimentary estimate to you, upon request. Guaranteed, we are the most thorough and comprehensive property-inspection company available in the region. We'll give you the service you expect and deserve. It's important to have an inspection performed with a company you can trust. Our sought-after and highly referred business speaks for itself. We are, and always will be "Committed to Excellence".
HiCaliber performs home inspections throughout southern Utah and southern Nevada. If you would like to contact our office, please call (435) 674-9338 or (800) 492-6333 for outlying areas. We look forward to working with you!